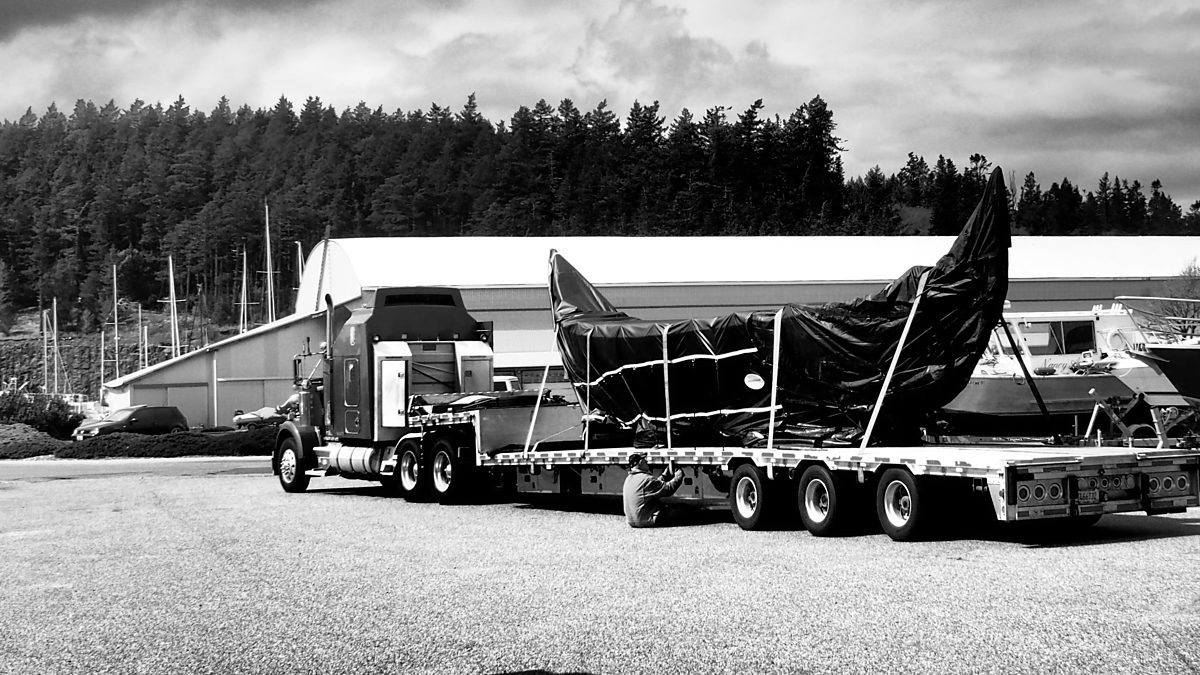 How are you going to get it to Boston?
A dollar for every time that question was asked would have covered the cost of shipping Polaris 3200 miles from Washington to Massachusetts. For three years, the answer to that hypothetical was, "Oh, we'll think of something!"
We wondered about the train: after all, a continuous rail network all the way from Anacortes to Gloucester does exist and a journey was possible in theory – a throwback to beginnings of a continent and a great story in the making.  Polaris might have been the first cargo in more than two decades to cross the Annisquam river by rail. It seemed too good to be true and after making inquiries, we decided it was. "She wouldn't survive" was the verdict straight out of the mouth of the representative from the railroad.
The ultimate answer to the question was that Dave was going to do it! He came equipped with a 75' long Kenwood rig with a stepped deck flatbed air ride trailer. It was giant! His rig is too big for the state of Connecticut so he avoids it at all costs—"or  they'll get you!"  Dave is from Shreveport, Louisana and is a driver for Landstar Systems. He was back on the road after a winter recovering from surgery and had the careful, and deliberate demeanor of someone who was either, recovering from surgery, or well aware of the consequences of not being careful and deliberate when trusted with the responsibility of hauling large valuable objects across the country — or both!
Polaris had spent the winter in the Skyline Marina in Anacortes. She was well protected from the worst of the winter weather however she had taken on a gentle patina of age, but was downright grimy in some places. After a couple of days scraping and oiling she was as good as new however and ready to be wrapped for her journey east.
We hauled Polaris on the morning of the Thursday, and she pulled out on to highway 20 headed for Boston the following Tuesday. Those were two dry, fine sunny days on either end of a weekend of atrocious nasty gales and cold biting rain. Fortunately, and this was fortunately with a big "F" – the Norse gods were clearly on our side--we had booked her into an indoor paint bay for the cleanup, packing and shrink wrapping. 
Over the weekend we built a wooden cradle to hold Polaris steady on the flatbed and went dumpster diving for cardboard. On Sunday, with the cardboard, bubble wrap, foam wrap and tape we covered everything we could and carefully secured each item inside the boat.
All packed up, and by day's end Monday,  she was covered in foam and shrink wrap, looking eerily modern, – a hint of what the Vikings might have done if they had suddenly discovered plastic.
"get on I5, then 90 through Yakima, to 84…get on 15 at Pocatello, 80, 81 to 88, pick up 90 at Albany and over to you".
Landstar Dave didn't do cities: he knew the interstates like the back of his hand. His description of the route across the country was something like this: "get on I5, then 90 through Yakima, to 84…get on 15 at Pocatello, 80, 81 to 88, pick up 90 at Albany and over to you".
Five days and two hours after leaving Skyline in Anacortes, Dave called in from Danversport Marina. The next morning Polaris was efficiently whisked from a 75 foot rig to a hydraulic trailer and in less than an hour she was on blocks at the Essex Shipbuilding museum.  As soon as Polaris was gone, the paperwork signed off, Landstar Dave was on to his next haul right away. A short one from Massachusetts to Vermont.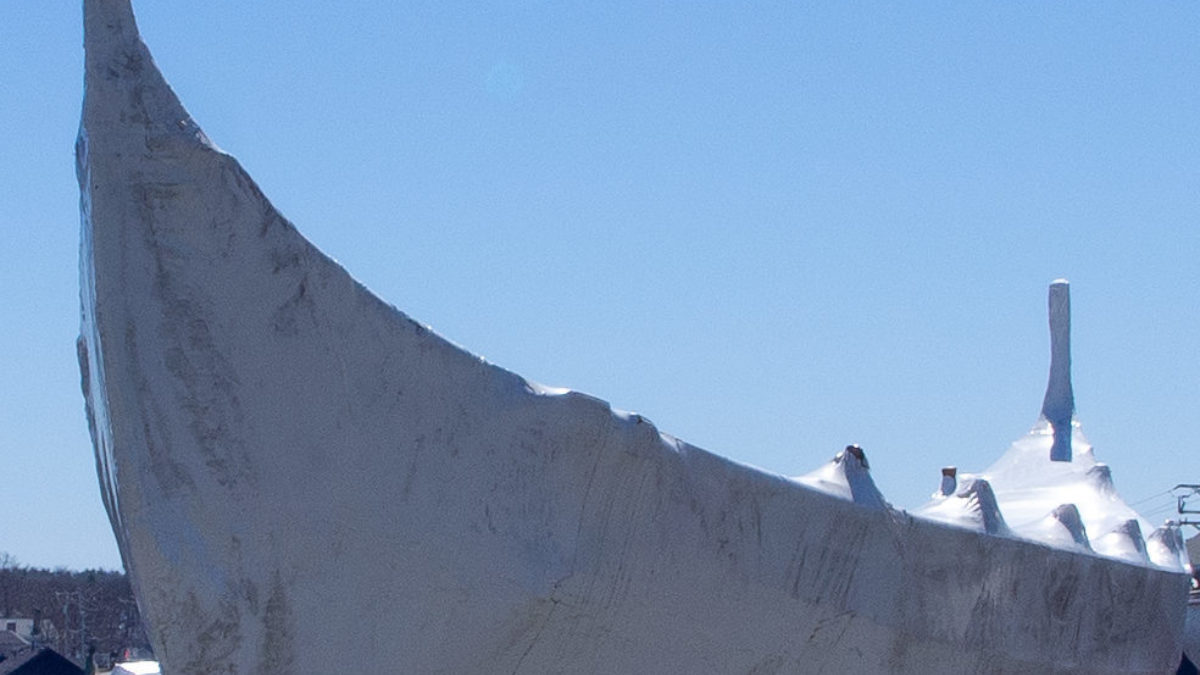 We are grateful, relieved and thankful to everyone who had a hand in getting Polaris  to Essex safely and without harm. Someone said "well she wasn't built in Essex, but she belongs in Essex!" We think so too!